Live Dealer Online Casinos
Live dealer casinos may be the single most revolutionary creation in the past decade of online gaming. When casinos started to implement live dealer table games, it changed from a virtual software computer game to the most realistic gambling experience possible. Today the number of online casinos that offer live dealer table games is larger than ever before, and that number will continue to grow over time.
Over the years, the shape of live dealer gaming at online casinos has changed dramatically. Where live dealer games used to be somewhat of a niche offering, today you will not find many large brands who do not offer them. In fact, an online casino loses a certain dose of credibility if they do not have live dealer tables to choose from. This is how big and important live dealer gaming is to the greater online gambling landscape.
How We Review Online Live Dealer Casinos
Reviews of online casinos that offer live dealer games from LiveDealerOnly.com are always unbiased and as honest and transparent as possible. While we do cover all elements of the site, we do place an extreme emphasis on the live dealer games and facets of the brand.
There are a number of factors that we consider when reviewing the live dealer offerings of any online casino. Rules and payback are important, as they determine the value that a player should expect to receive. From here we look at software quality, overall user experience, and then other backbone type considerations, like the reputation of the online casino in question.
Our reviews also look closely at bonuses offered for live dealer play at any online casino. Since live dealer games will generally have different rollover requirements and terms than other games when it comes to deposit or reload bonuses, we make sure to analyze the details carefully. If you join an online casino and aim to play live dealer games, you will want to make sure that you qualify for promotions and other bonus money that is being offered.
Do All Online Casinos Have Live Dealers?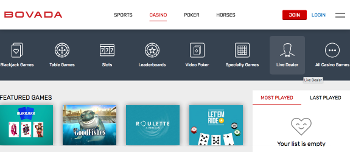 You would expect that every single online casino would now have at least a few live dealer games to choose from, but this simply isn't the case. Believe it or not, there are some older online casino properties that still have not implemented this increasingly popular technology. It is possible that certain software is not as compatible with the new live dealer games, making it difficult or cost prohibitive for an online casino to add live dealer options to their existing options.
There are no casinos, at least as of now, that are exclusively live dealer focused. That is, there aren't any online casinos that offer live dealer games and no other forms of gambling. Live dealer table games are simply another category of games that casinos use to compliment the traditional form of online gambling, and there largest category of games, which is slots. Live slots are not a type of live dealer game, and it is unlikely that they will be, since online slots are just about the same thing as playing in a brick and mortar casino.
Types of Live Dealer Online Casinos
The biggest differences between live dealer online casinos will be found in the providers used and the limits offered. You will find slight rule discrepancies as well, but due to the amount of competition and how easy it is for players to switch from one online casino to the next, you will realize that the rules and house edge on live dealer games tends to be around the same from one website to the next.
There are now many different gaming providers to choose from, though as an online live dealer player, you may not have even noticed that the games are the same at many online casinos. For the most part, you aren't going to experience any notable differences in the live dealer experience from one provider to the next, unless you are already familiar with the different providers that offer the games.
How Live Dealer Online Casinos Work
It is a common misconception that live dealer games are provided explicitly by the particular website that you are playing at. For example, you may be playing at Wild Casino and think that Wild Casino themselves has hired the dealers and is operating the tables that you see when you are playing. In reality this is almost never going to be the case.
Online casinos share a lot of the same resources when running live dealer games. Since this doesn't impact the end user experience, it makes the entire operation that much more efficient. So, in the example above, imagine you are playing live dealer blackjack at Wild Casino. You sit down at a Blackjack table and are playing with three other players. To you it may seem that you are playing blackjack with three other people that are also members of Wild Casino. While this is technically possible, it is more likely that you are seated with a few players from other online casinos, and maybe even casinos you have never even heard of.
Sometimes live dealer online casinos are mixed among brands that are run by the same network. Using the Wild Casino example, you may be playing with players from BetOnline.ag, which is a skin that is owned by the same company. The online casinos merge player pools into the same type of games to create the most efficient operation possible. From a player's perspective, this type of white label shouldn't even be apparent and will not effect your experience.
US and Non-US Online Live Dealers
Players in both the United States and around the world have access to live dealer casino games. Generally, the biggest change from one part of the world to the next is which software providers are actually operating the games. For example, Bet365 in London, England is almost certainly going to be using a different company (or even running live dealer games in-house) than an offshore casino that offers play to US players.
While the providers may be different, the actual final product that US online live dealer players receive is going to be quite similar to what is found in the rest of the world. The only definitive drawback for US players using live dealer casinos is the fact that they are going to be a bit less regulated. As is the case with just about all online casino play in the US, the risk is inherently present – but it can be significantly reduced by researching any casino before you decide to join, and this is even more important if playing live dealer games for real money.
Fairness of Online Live Dealer Casinos
The issue of fairness and transparency at online live dealer casinos has long been a double edged sword. On one hand, players are able to see cards being dealt, a ball being rolled (in roulette) and a real dealer in front of their eyes. It is easy to see why this would make the online casino seem more clearly fair than before.
The problem for casinos is that players sometimes believe that since a real human is actually touching the cards and the table in front of them, it means the games can be easily rigged to cheat them. While this is true, it is most important to consider both why and how an online casino would cheat using live dealers.
Not only would a live dealer cheating be easier to catch (all of the play can easily be recorded, after all), but it would still be difficult to cheat on purpose. You would have to know how a player is going to act in order to set up the cards correctly, or otherwise manipulate a roulette wheel so that the ball somehow manages to land on the number that is best for the casino.
Compounding the unlikeliness of an online casino using live dealers to cheat is the fact that the actual dealer and action is outsourced. For the casino itself to benefit, they would need to collude with the live dealer provider, make a plan to cheat, execute it, determine how much money was made, and then split the gains – all without anyone blowing a whistle. Again, in the most theoretical sense this would be achievable, but there is so much complexity involved and the risk to brand reputation is so large that an online casino would be foolish to consider cheating with live dealers.